Medical Articles with Evidence Based Medicine (EBM)
"This study gives us concrete proof that even minor improvements in an individual's physical fitness can have a very positive impact on their overall health and well-being

."

--Dr. Stine

From
Heartwire
Increased Fitness, Not Weight Loss, Improves Mortality
In addition, the researchers observed that men who lost physical fitness over an 11-year follow-up period had a significantly higher risk of cardiovascular death regardless of changes in BMI when compared with men who remained unfit.
"To date, extensive attention has been given to weight loss," states Dr Duck-chul Lee (University of South Carolina, Columbia) and colleagues in the study, published online December 5, 2011 in Circulation. "However, the long-term effect of fitness change, primarily resulting from increasing physical activity, is likely to be at least as important as weight loss for reducing premature mortality. Increased attention needs to be placed on strategies to maintain or improve fitness."
To heartwire, Lee noted that approximately 90% of patients included in the analysis were overweight or obese, so it remains unknown if the same results would be observed in patients with lower BMIs. In those populations, for example, weight gain in healthy-weight patients might play a more important role and be associated with an increased risk of mortality.
"But I do think that if individuals can maintain or improve their fitness levels, they need to worry less about weight gain," said Lee. "People really think that weight gain is a bad thing, but in our study fitness loss was associated with a higher risk of mortality regardless of weight change."
Reducing Mortality 15% for Every 1-MET Improvement
Cardiorespiratory fitness, expressed in metabolic equivalents (METs), is a strong independent predictor of mortality. In addition, BMI, the most used marker of obesity, is also strongly predictive of mortality, with most associations between BMI and mortality either J-shaped or U-shaped. The studies that established the relationship between BMI, fitness, and mortality typically assessed the measures at baseline and assumed no change over follow-up.
Using data from the Aerobics Center Longitudinal Study, the combined association of changes in fitness and BMI on overall and cardiovascular mortality were assessed in 14 435 men with at least two medical evaluations and an average follow-up of 11.4 years since the last examination. Changes in fitness and BMI, which occurred over a six-year period, were recorded as a loss, as stable, or as a gain.
In a multivariable analysis adjusted for multiple risk factors, including changes in BMI, men who maintained their physical-fitness levels had a 30% and 27% lower risk of death and cardiovascular death, respectively, when compared with men who lost fitness. Those who got into better shape from baseline had a 39% and 42% lower risk of death and cardiovascular mortality, respectively, when compared with those who lost fitness over the years. Every 1-MET improvement resulted in a significant 15% reduction in the risk of death and a 19% reduction in the risk of cardiovascular disease mortality.
BMI changes, on the other hand, were not significantly associated with all-cause mortality, but men who gained weight had a 39% higher risk of cardiovascular disease mortality compared with men who lost weight, although the association was attenuated and no longer statistically significant when adjusted for maximal MET changes. One BMI unit increase was associated with a borderline increase in all-cause and cardiovascular disease mortality, but the association was not significant in a risk model that adjusted for maximal MET changes.
Hazard Ratios of All-Cause Mortality and Cardiovascular Disease Mortality by Changes in Fitness and BMI
| | | |
| --- | --- | --- |
| Variable | All-cause mortality, hazard ratio (95% CI) | Cardiovascular disease mortality, hazard ratio (95% CI) |
| Fitness change, loss | 1.00 | 1.00 |
| Fitness change, stable | 0.70 (0.59–0.83) | 0.73 (0.54–0.98) |
| Fitness change, gain | 0.61 (0.51–0.73) | 0.58 (0.42–0.80 |
| p for trend | <0.001 | <0.001 |
| Per 1-MET increase | 0.85 (0.80–0.89) | 0.81 (0.74–0.89) |
| BMI, loss | 1.00 | 1.00 |
| BMI, stable | 1.06 (0.90–1.26) | 0.98 (0.71–1.34) |
| BMI, gain | 1.03 (0.87–1.23) | 1.26 (0.94–1.69) |
| p for trend | 0.68 | 0.14 |
| Per 1-BMI increase | 1.03 (0.98–1.08) | 1.06 (0.97–1.14) |
*Adjusted for age, examination year, parental cardiovascular disease, BMI, and maximal METs at baseline; the combination patterns of each lifestyle factor (smoking status, alcohol intake, and physical activity) and each medical condition (abnormal electrocardiogram, hypertension, diabetes, and hypercholesterolemia) at the baseline and last examinations; adjusted for the number of clinic visits between the baseline and last examinations; and adjusted for BMI change (for fitness) and maximal MET change (for BMI) between baseline and last examination
Men who became or remained fit had a significant 47% and 48% lower risk of all-cause mortality, respectively, compared with men who remained unfit. Similarly, men who became or remained fit had a 41% and 44% lower risk of cardiovascular disease mortality, respectively. Interestingly, men who lost cardiorespiratory fitness had a nearly twofold increased risk of cardiovascular disease mortality (hazard ratio 1.89; 95% CI 1.03–3.45) compared with men who remained unfit.
In contrast, changes in BMI status were not associated with mortality after adjustment for potential confounders, including changes in fitness. For example, becoming normal weight did not appear to have any benefit in terms of reducing the risk of all-cause and cardiovascular death, while becoming overweight did not appear to increase the risk of mortality. Lee noted that men who increased their physical-activity levels were significantly more likely to maintain their cardiorespiratory-fitness levels, adding that 80% of men who maintained their fitness levels increased their physical-activity levels.
"Basically, to increase or maintain fitness levels, physical activity is the most important factor that people can modify," said Lee.
The researchers note that overweight or obese persons make up two-thirds of the US population, but focusing on improving fitness, especially given how difficult it is for some patients lose weight and maintain weight loss over the long term, could have important clinical and public-health implications.
___________________________________________________________
"This study further reinforces that mammograms for breast cancer screening save lives. We recommend annual breast cancer screening for women over the age of 40."

-- Dr. Stine
Regular Mammograms Slash Breast Cancer Mortality Risk in Half
December 6, 2011 — Regular mammograms may decrease the risk for deadly breast cancer by 49%, a new case-control study suggests.
According to the Dutch investigators, the greatest reduction occurred in women aged 70 to 75 years and represented a drop of 84%.
"Our study adds further evidence that mammography screening unambiguously reduces breast cancer mortality," said senior researcher Suzie Otto, PhD, from the Department of Public Health at Rotterdam's Erasmus Medical Centre, the Netherlands, in a news release.
The study was published online December 6 in Cancer Epidemiology, Biomarkers, and Prevention.
For the study, investigators examined data from 755 women aged 49 to 75 years who died of breast cancer from 1995 to 2003, and matched them closely by age and screening occurrence with 3739 control patients (5 per case).
Of the cancers detected, 29.8% were detected by screening mammogram, 34.3% were detected at intervals between screenings, and 35.9% occurred in women who had never been screened (nonparticipants).
Cancers in nonparticipants tended to be more advanced, with a rate of 29.5% for stage IV tumors compared with 5.3% for screen-detected cases and 15.1% for interval cases.
In contrast, regular screening was more likely to reveal early-stage localized tumors (34.2% vs 10.8% for intervals and 10.3% for nonparticipants).
As a result, women who had undergone 3 or more mammography screenings were 49% less likely to die from breast cancer on detection, relative to control patients (odds ratio [OR], 0.51; 95% confidence interval [CI], 0.40 - 0.66).
Although the greatest effect was observed among women aged 70 to 75 years (84% decrease; OR, 0.16; CI, 0.09 - 0.29), the decrease in breast cancer mortality risk for the target population aged 50 to 69 years remained significant (39%; OR, 0.61; 95% CI, 0.47 - 0.79).
The authors note that these benefits may be duplicated in the United States with the presence of a government-funded program that encourages a preventive medicine approach.
In the Netherlands, mammography screening is offered free of charge to women aged 50 to 75 years. The program is carried out by regional organizations that personally invite eligible women by mail to a fixed appointment at a mobile screening unit.
"The Dutch government considers it imperative that everyone eligible for a screening program is given the opportunity to participate," Dr. Otto noted in the release, noting that the commensurate decrease in breast cancer mortality rates has been replicated in Europe and Australia.
The study was supported by the Dutch Health Care Insurance Council and the National Institute for Public Health and the Environment. The authors have disclosed no relevant financial relationships.
Cancer Epidemiol Biomarkers Prev. Published online December 6, 2011. ________________________________________________________
"Most of us did not grow up with the television on, but the usage of all forms of media has skyrocketed over the past decade. This may ultimately be harmful for your children, and we recommend following these guidelines in your home."
--Dr Stine

Updated AAP Policy: Turn Off the TV and Talk to Your Toddler
November 10, 2011 (Boston, Massachusetts) — An
updated policy statement
from the American Academy of Pediatrics (AAP) Council of Communications and Media recommends that media, particularly television, have potentially negative effects on children younger than 2 years, and recommends no media use in this age group.
"We said this in 1999, and we're saying it 12 years later, in 2011," Ari Brown, MD, a pediatrician in private practice in Austin, Texas, who headed the council, said here at the AAP 2011 National Conference and Exhibition. "Kids should learn from play, not from a TV screen. This new policy statement reaffirms what we said back then," she told Medscape Medical News.
The highlights of the policy statement were unveiled at the meeting. They include the following recommendations:
The AAP discourages media use by kids younger than 2 years, and pediatricians should discuss these recommendations with parents.
Discuss setting "media limits" before age 2 because many parents are not aware of the AAP recommendations.
Pediatricians should explain the importance of unstructured, unplugged play in allowing a child's mind to grow, problem solve, think innovatively, and develop reasoning skills. The importance of parents sitting down to play with their children cannot be overstated.
Encourage parents to read to their children to foster cognitive and language development.
Don't place a TV in the child's bedroom.
Don't watch adult TV when a young child is in the room.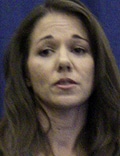 Dr. Ari Brown
From 40% to 60% of American households with young children report that the TV is either always or often on when no one is watching, Dr. Brown said. "The truth is someone is watching, and that's the child. The effect is distracting; it reduces talk time, which we know is important for language development, and it disrupts the child's play," she said.
Since the first policy statement, research has shown just how disruptive that TV can be. A child playing in a room where the TV was on and tuned to a show that was not even geared toward children looked up at the screen 3 times per minute.
"So every 20 seconds, the child would actually look up and glance at the TV. They would be less concentrated on their playing, and they would move on to another activity more quickly," Dr. Brown said. "This proves that the TV is distracting the young child from their valuable play time."
Parents are encouraged to turn off the TV when their young children are in the room because they tend not to focus as much on them, she added.
TV is not educational for such young children; there are better ways to engage young children, she said.
"You can't be playing with your child 24 hours a day, we get that.... But your child's time is actually quite valuable. When they are playing independently, they are learning how to problem solve and think creatively — these are important life skills. You are actually doing your child a service by letting them play on their own."
There is also a concern that too much television can delay language development, Dr. Brown said.
"There is a national children's study that has just started looking at the long-term effects of environmental exposures, including media use. We won't have the results of that study for 20 years, but at least somebody is looking at it now," she said. "We do know about short-term effects, and can see the short-term effects in language delays. Perhaps it's because parents and children are not talking to each other when the television is on; kids really need that."
Tanya Altmann, MD, from the University of California at Los Angeles, agrees that studies are showing that when the television is on in the house, parents talk less and interact less with their children.
Dr. Altmann, who was invited to comment on the updated policy statement, said that video screens are much more ubiquitous than they were in 1999 when the initial policy statement came out.
"It's really hard to raise children today without keeping this in mind. Everywhere you go, parents are on their smart phones, there's TV, computers. Video plays a major role in our lives today," she said. "It's so important to keep in mind that the brains of children under the age of 2 are rapidly developing. The evidence is there that such young children can't learn from screens and there may be some harmful effects. Parents must be aware of this and set limits for their children under age 2. They should even consider not having the television on at all."
Dr. Brown and Dr. Altmann have disclosed no relevant financial relationships.
American Academy of Pediatrics (AAP) 2011 National Conference and Exhibition. Presented October 17, 2011.
________________________________________________________
"Even healthy patients need to have annual physicals to ensure that their health remains."
--Suzanne Ellett PA-C


ACOG Updates Routine Well-Woman
Annual Screening Guidelines
March 21, 2011 — The Committee on Gynecologic Practice of the American College of Obstetricians and Gynecologists (ACOG) has updated guidelines for routine screenings, laboratory tests, and immunizations for the annual examination visit of nonpregnant adolescents and women, according to a Committee Opinion published in the April issue of Obstetrics & Gynecology.
"The purpose of the annual ob-gyn visit is to detect and treat any new or ongoing health problems as well as to help prevent future ones from developing," said Hal C. Lawrence, III, MD, ACOG vice president for Practice Activities, in a news release.
"The College urges the US Department of Health and Human Services to include these screenings, tests, and immunizations included in our well-woman exam recommendations under the preventive services that it is considering for inclusion under the new health care law."

Annual Exams
Recommended Health Assessments
Through use of numerous charts, the Committee Opinion groups the periodically recommended health evaluations by age range, beginning at age 13 years, and considers individual risk factors that may necessitate further tests, screenings, and/or counseling.
Required evaluations for every annual ob-gyn examination, regardless of age, include determination of current health status, nutrition, physical activity, sexual behavior, and use of tobacco, alcohol, and drugs. Adolescent girls and women of all ages should also undergo measurement of height, weight, body mass index, and blood pressure. At age 19 years, annual breast and abdominal examinations should be initiated, and routine annual pelvic examinations should start at age 21 years.
"Since the age a woman receives her first Pap [Papanicolaou] test changed two years ago to age 21, and most women can have them less frequently than previously recommended, there's this misconception that if you don't need a Pap then you can skip the ob-gyn visit altogether," Dr. Lawrence said. "Nearly every woman age 21 and older needs an annual well-woman visit with her ob-gyn, regardless of whether cervical cancer screening is done. The Pap test is just one part of staying healthy."
The updated guidelines also include charts for vaccination recommendations, by age and risk group, including the flu shot, Hepatitis A and B, human papillomavirus, and measles. All sexually active adolescents and young women up to age 25 years should undergo annual testing for chlamydia and gonorrhea. Starting at age 19 years and continuing until age 64 years, all sexually active adolescents and women should undergo routine testing for HIV infection.
The Committee Opinion offers general recommendations to guide care provided by obstetricians, gynecologists, and other clinicians who provide healthcare to women. However, these recommendations should be modified based on risk factors or other conditions that could necessitate additional or more frequent tests and interventions.
"For instance, we recommend that women have their first mammogram at age 40, and yearly beginning at 50, but a woman and her doctor may decide to have a baseline mammogram before age 40 if there is a family history of breast cancer," Dr. Lawrence said.
Risk Factors and Interventions
Some of the specific interventions, and some of the high-risk factors that may indicate that the intervention is needed, include the following:
Bone mineral density screening: postmenopausal women younger than 65 years, history of prior fracture as an adult, family history of osteoporosis, Caucasian, dementia, poor nutrition, smoking, low weight and body mass index, estrogen deficiency, low lifelong calcium intake, alcoholism, impaired eyesight, history of falls, inadequate physical activity, and medical conditions and certain drugs associated with an increased risk for osteoporosis.
Colorectal cancer screening: family or personal history of colorectal cancer, adenomatous polyps, inflammatory bowel disease, chronic ulcerative colitis, or Crohn's disease.
Diphtheria and reduced tetanus: close contact with an infant younger than 12 months and healthcare providers. When possible, women should receive diphtheria and reduced tetanus toxoids and acellular pertussis vaccine before conceiving.
Fasting glucose level testing: overweight, first-degree relative with diabetes mellitus, physical inactivity, high-risk race or ethnicity, history of gestational diabetes mellitus or delivery of a high-birth-weight infant, hypertension, dyslipidemia, history of impaired glucose tolerance or impaired fasting glucose level, polycystic ovary syndrome, history of vascular disease, and other clinical conditions associated with insulin resistance.
Fluoride supplementation: residence in area with inadequate water fluoridation.
Genetic testing/counseling: considering pregnancy and patient, partner, or family member with a history of genetic disorder or birth defect; exposure to teratogens.
Hemoglobin testing: Caribbean, Latin American, Asian, Mediterranean, or African ancestry; menorrhagia; hepatitis A virus vaccination; chronic liver disease; clotting factor disorders; use of illegal drugs.
Hepatitis B virus vaccination: hemodialysis, use of clotting factor concentrates, healthcare workers or students with exposure to blood in the workplace or school, use of injection drugs, multiple sexual partners, sexually transmitted diseases.
Hepatitis C virus testing: use of illegal injection drugs, recipients of clotting factor concentrates before 1987, long-term hemodialysis, persistently abnormal alanine aminotransferase levels, recipients of blood from donors who later tested positive for hepatitis C virus infection, multiple sexual partners.
HIV testing: more than 1 sexual partner since most recent HIV test, a sexual partner with more than 1 sexual partner since most recent HIV test, sexually transmitted disease in the past year, drug use by injection, invasive cervical cancer. HIV testing should be recommended to women seeking preconception evaluation.
Other interventions discussed, along with risk factors indicating their use, include lipid profile assessment, mammography, meningococcal vaccination, measles-mumps-rubella vaccination, pneumococcal vaccination, rubella titer assessment, testing for sexually transmitted diseases, skin examination, thyroid-stimulating hormone testing, tuberculosis skin testing, and varicella vaccination.
Obstet Gynecol. 2011;117:1008-1015. Extract